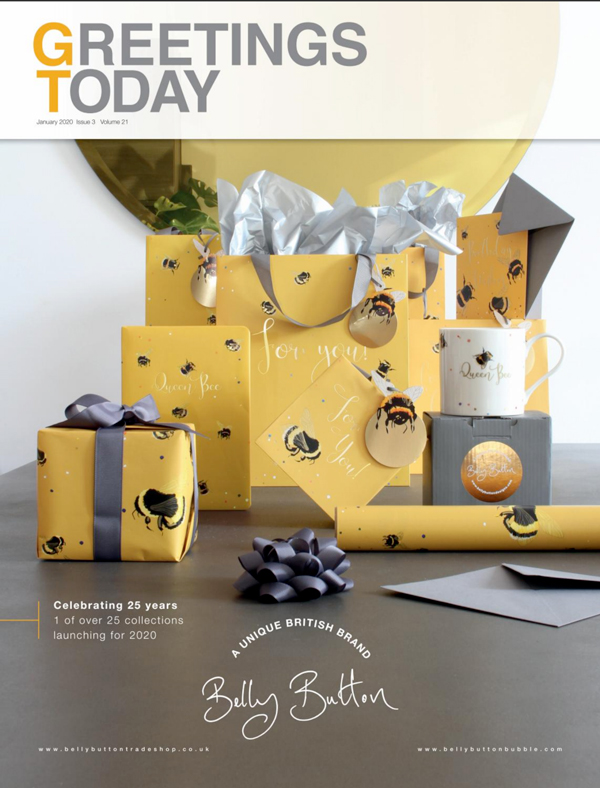 It may be the depths of Winter but Spring is starting to be on everybody's mind as we look to the new year, new ranges, new ideas and the new trade shows. We've got a preview for Top Drawer which kicks off the year on January 12-14 at Olympia London, see what The Art File, Cath Tate Cards, VENT for Change and many others have to offer (p26). The Live Design theme is set to inspire and don't forget to check out the PaperAwards finalists.
There's also a preview for the Scotland Trade Fair (p46) which is on in Glasgow on January 19-21. Emma Ball, Wee Wishes and Pink Pig Cards are just a few of the card publishers who will be displaying their new ranges and more.
Rounding out our features is a special on Christmas Cards & Wrap (p34) for 2020. We may still be recovering from this year's festivities but there is plenty to look forward to for next year.
Our cover story is on Rachel Hare and the 25th anniversary of Belly Button Designs, learn how she manages to balance all that is going on in her life on page 20. Plus see what plans she has in store for this anniversary year and the rebranding of her giftware collection.
Wards Words (p22) looks at how to entice millennials and Gen Z into your store. Henri Davis' Retail Advice (p32) discusses why attending trade fairs is good for business whether you're an exhibitor, buyer or retailer – there are plenty of things to see, do and learn. John Ryan looks at how independent retailers can combat the threats posed by many other retailers that are now offering cards as part of their product mix (p44).
We have a new regular feature called Shop Talk (p24), where retailers give their thoughts on the card industry and retail in general. If you'd like to be involved, please get in touch. I'm always happy to speak to people from the industry, no matter whether you're a retailer, publisher, agent or someone else and I hope to meet many of you at the trade fairs – so if you spot me, come and say hello.