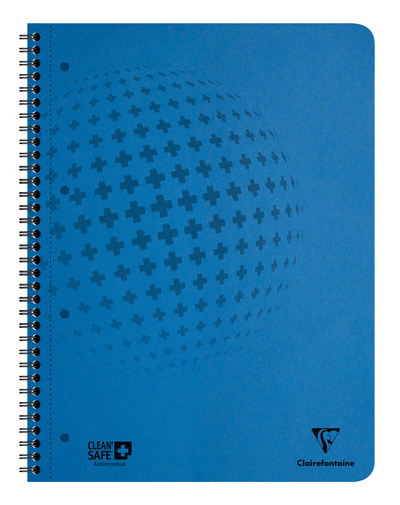 ExaClair have extended their Clean'Safe range with antimicrobial notebooks  
Exaclair has expanded its Clean'Safe filing and desktop accessories range with a new selection of antimicrobial notebooks to further mitigate cross contamination issues, specifically for people combining working from home with the office.
Treated with organic antimicrobial active ingredients, the Clean'Safe notebook cover halts the spread of bacteria and viruses with over 99% effectiveness.
Featuring 100% recyclable, PEFC™ certified materials, these notebooks are available in A5, A4 and A4+ sizes and include Clairefontaine's signature brushed vellum 90gsm paper in either lined or squared formats. The antimicrobial ingredients incorporated into the cover will last for the lifetime of the product.
Lawrence Savage, Marketing Manager at ExaClair, said that this range will offer extra reassurance for those returning to work. "This range of notebooks allows employees to transport notes from home to the office without being concerned about cross contamination."
The notebooks are FDA (Food and Drug Administration) and BFR 36 (Paper & Board for food contact) approved.
T: 01553 696 600
www.exaclair.co.uk