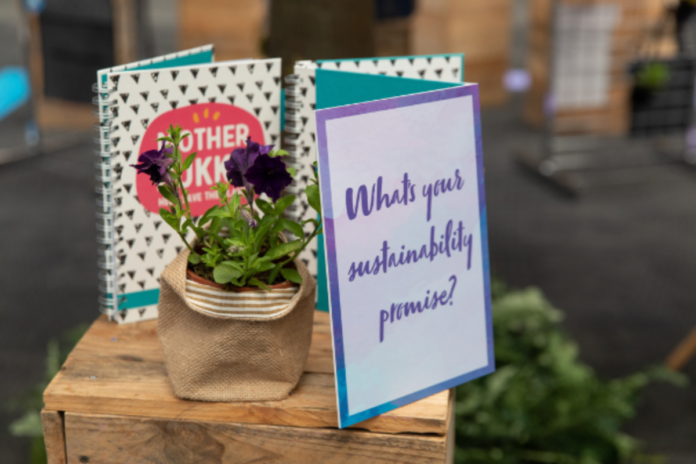 Sustainability has been a growing trend and key focus in the stationery industry over recent years and has sparked an increase in eco-friendly products from notebooks to gift wrap
London Stationery Show chose to highlight this important issue with a new Sustainability Matters feature taking centre stage at the event. As the largest UK trade event dedicated to the paper and writing instruments industry, it was important for the show to emphasise the alternative tools people can use in their everyday lives to affect positive change for the planet.
Both large-scale household names and independent businesses were involved in the feature with a wide variation of products available. The Pilot Pen Co. displayed its whole range of 'Begreen' products, which includes pens, pencils, markers and erasers, spotlighting how easy it is to switch to sustainable everyday writing tools. Wrapuccino showcased its wide array of fabric wraps, which encourage people to utilise a reusable alternative when gift wrapping, adding a fun aspect to gift-giving and showing that sustainability is not only about using recyclable materials but trying to prevent the cycle of disposable stationery altogether.
Event director Alex Butler said: "The Sustainability Matters feature was hugely popular with both exhibitors and visitors, it was a pleasure to see such a wide array of eco-friendly products and it will be great to see how the industry continues to evolve in the future."
Other brands that showcased products included: Anne Davison Studio, Frisk, Butterfly, Carioca, Dodo Pad, edding, Coffee Notes, ExaClair, Filofax & Letts of London, Giuseppe di Natale, Heinenko, Jakar, MT Displays, nu:notebooks, Okey Dokey Design, Once Upon A Tuesday, Paper Lounge, Papydo, Pentel, Perfect Planner Company, Pukka Pads, Railex, Sinclairs, Staedtler and Storigraphic.
As well as being able to peruse the eco-friendly displays, visitors were also encouraged to write their own sustainability pledge. This aimed to inspire people to commit to a more eco-conscious attitude and collectively move the industry in a direction of sustainability. Examples of these pledges included: "I pledge to only purchase notebooks that use recycled paper" and "I pledge to think carefully about what I recycle".
London Stationery Show returns 16-17 May 2023 at the Business Design Centre.