The Harrogate Home & Gift show is a firm favourite with the award-winning Joe Davies team.
Stand Hall B, Stand B66
The company has been trading for over 100 years and has one of the largest ranges of gifts in the industry. Add to that the hugely popular Equilibrium jewellery and fashion accessories collection and more recently the SugarLane sustainable fashion brand and this really is a stand you will not want to miss.
Gonks galore
Gonks continue to be hugely popular and Joe Davies has a whole world of gonks for you to choose from. New for this season is the rustic Woodland Gonk collection; charming country style characters in woodland tones of green and hazel brown, dressed in knitted and natural style fabrics. These quirky gonks will sit perfectly with current home décor colour trends and add a unique touch to any home as well as making ideal gifts.
To add to the woodland theme there's a new collection of Magical Mushroom Gonks; these eccentric little fellows wearing ornate curly mushroom hats come in warm autumnal colours that sit perfectly alongside the subtle greens of the Woodland Gonks. If you're looking to create an eye-catching display in-store, combine the Woodland Gonks with the Magical Mushroom Gonks, add a sprinkling of autumn leaves and you are onto a sure winner!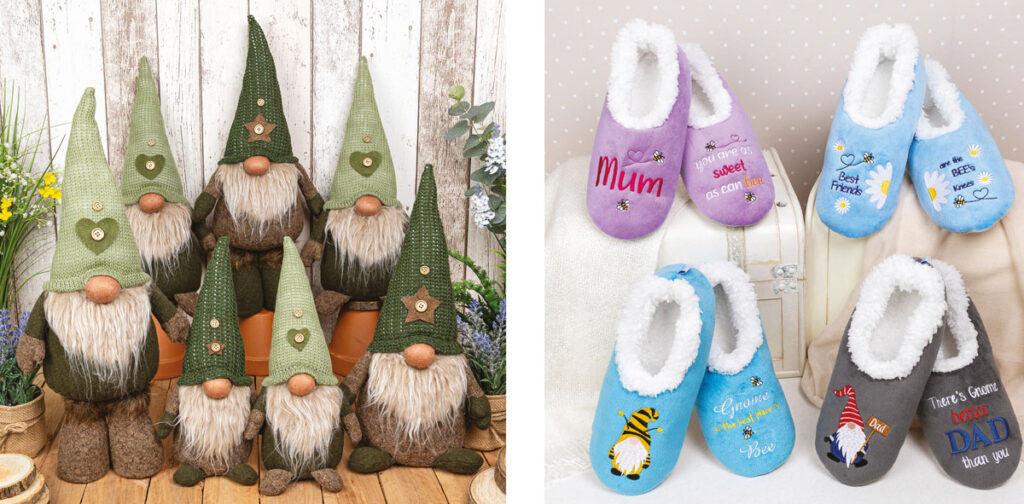 Latest designs
The Equilibrium Collection from Joe Davies offers up-to-the-minute designs; great quality, luxury branded packaging and affordable prices – all hallmarks of this
highly successful collection. The new Equilibrium Bubble collection showcases stylish necklaces, bracelets and earrings with fixed 'bubbles', which give a modern expression to a look that is really fresh on the jewellery scene.
Equilibrium Fashion Accessories are a real must during the run-up to Christmas and Autumn/Winter is all about cosy accessories that keep you snuggly and warm. Luxurious colour-blocked scarves, elegant faux fur crossover scarves, soft suede-feel gloves, modern cable knit scarf & gloves sets and more will all debut at Harrogate Home & Gift. Many pieces come complete with a luxury branded Equilibrium gift box, making them easy to display for the retailer and the perfect gift for the customer; a win-win situation all round!
Snuggle in snoozies!
Snoozies! are cosy little foot coverings.Dubbed the original and the best, they have been one of Joe Davies' best-selling ranges for over 10 years with in excess of two million pairs sold. New for 2022 are the luxurious Frosty Fur ladies snoozies!; these super-soft, snuggly snoozies! are so soft and comfortable you will never want to wear anything else again! Also debuting are the stylish new Wild Side snoozies!, fashionable animal print snoozies! that are right on trend as animal print is back with a force. Add to this 11 new snoozies! pairables designs including specific dad, grandad, mum, nan and best friend captions to go with this popular range. What's more there's an attractive and practical free snoozies! spinner, which is available with any order of 144 pairs.
Serenity scents
Room fragrance is experiencing something of a boom right now as more and more people are working from home, and curating a pleasant home ambience has become increasingly important. Joe Davies is launching the stunning new Miranda B at home collection of Serenity Garden luxury scented candles and reed diffusers.
This sophisticated collection is available in six vibrant colours and fragrances, each colour carefully selected to coincide with current home décor trends and includes fuchsia pink, hunter green and indigo. Fragrances include lemon basil and mandarin, orange and bergamot, cotton linen and sandalwood. Aromas can arouse pleasant memories that will be remembered forever – just a few of the most popular essences on offer in this captivating range.
Joe Davies is well known in the industry for its 'little and often' ordering quantities, which enable customers to order a very small quantity of each item selected each time they order, therefore allowing a wider selection of products without breaking the bank! What's more the minimum order value is just £100 for carriage-paid orders, enabling customers to place small orders more frequently.
Joe Davies' friendly, helpful team looks forward to welcoming you to their stand.
0161 975 6300
sales@joedavies.co.uk
www.joedavies.co.uk