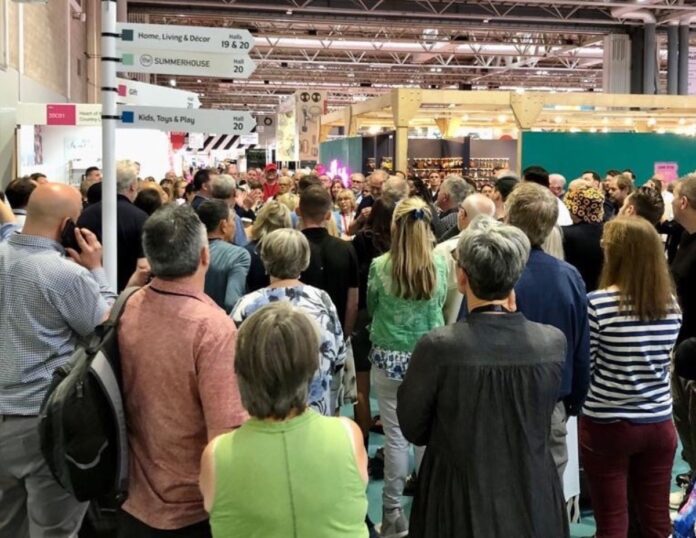 The last day of any exhibition is usually a relatively quiet affair for many shows, however not so yesterday. Many exhibitors unhappy with Autumn Fair's Connect programme congregated at the entrance of Hall 20 early in the morning in an effort to have their voices heard by show organiser Hyve.
Connect – designed to facilitate meetings between exhibitor and buyer – has been met with frustration and disappointment, with a compulsory fee for exhibitors, failure of some buyers to attend meetings and a time-consuming system for both exhibitors and visiting retailers.
Following the demonstration, Hyve had a behind-closed-doors meeting with some exhibitors to hear their views. Following this meeting Nicola Meadows, Divisional Managing Director said, "I really appreciated speaking to the group of exhibitors this morning who shared their thoughts and feelings about the onsite experience, the delivery, and outcomes of Connect and the general feel across the show floor.
"We have listened and were able to have a constructive conversation and would like to reassure all our exhibitors that while we evaluate the overall show, gain further feedback, and follow up with each of them, their location and rates will not change. In the meantime, WE will not be increasing rates and the onsite offer will be frozen for the next 28 days.
I would also like to take this opportunity to thank all our exhibitors for persevering with us and continuing to provide feedback. We know how important these shows are to the industry and want to continue to listen to feedback and experiences to make the show the best it can be going forward."
James Thomas of Forever England, and Toby Powell of Powell Craft, who were both present at the meeting, said: "It is good that the organisers have acknowledged that there are issues from both buyers and exhibitors with Connect. It has been constructive in that they are prepared to take on our feedback and we're more hopeful today having met face to face, than we have been.
"If dialogue can stay open between exhibitors and representatives of Hyve to resolve this matter into something that works for the industry and for the buyers primarily, then this can hopefully be a good outcome. We're grateful that they froze any bookings and re-bookings and that they're going to go back and look into our grievances – and most importantly that of the buyers."
Sarah Ward, CEO of The Giftware Association added, "As a membership Association supporting our industry and members I have listened and have been actively relaying the narrative of Autumn Fair to the show organisers. I have been talking to key exhibitors to understand better the frustrations to reach a positive outcome for all.
"Autumn Fair has been a staple to the autumn show calendar for our members who rely on its success for their brands and own journey and understanding how we work through this together is key to its further success.''
In addition, Amanda Fergusson, CEO of the Greeting Card Association, said, "Autumn and Spring Fair are really important to the greeting card industry; we love the shows, and the card sector is very important to the shows. If you've got gift buyers coming here, the show needs cards so we really want the show to succeed. We want to see more exhibitors here, but most importantly we want the buyers to come flooding through the door – that's important to all of us – they are what makes it a successful show.
"I'm thrilled that Autumn Fair is listening to the exhibitors, and pleased that they are going to take time to go away and reflect on all the feedback from the show and look at how we can improve and move forward."
Mark Naish, managing director of Lema Publishing (publisher of Gifts Today and Greetings Today), said "What is very clear from the conversations we have had with many exhibitors is that there is a genuine fear as to the negative effect Connect will potentially have – not just on Autumn Fair – but more importantly Spring Fair. Both these shows are critical to their businesses and aside from the fee for Connect, their very real concern is that if this is not resolved, exhibitor numbers may drop. While it was unrealistic that Hyve would be able to make any promises at the show as to the long-term outlook for Connect, it was good to see Hyve treating these views seriously and I hope they address them as soon as possible."
What are your views, have you had a positive or negative experience of Connect? We'd love to hear your views – please email Greetings Today at naomi@lemapublishing.co.uk.